William H. Gates, Bill Gates' father, passed away yesterday.
In a moving — and inspiring — blog post Bill talks about his father, especially the incredible parent and role model he's been to him.
Bill attributes his success to his parents' unconditional support and encouragement:
I knew [my parents'] love and support were unconditional, even when we clashed in my teenage years. I am sure that's one of the reasons why I felt comfortable taking some big risks when I was young, like leaving college to start Microsoft with Paul Allen. I knew they would be in my corner even if I failed.
Bill also shares that—
My dad's wisdom, generosity, empathy, and humility had a huge influence on people around the world.

He was collaborative, judicious, and serious about learning.
He modeled an amazing work ethic.
He was quick to tear up when he saw people suffering in the world.

And he would not let any of us forget the people behind the strategies we were discussing.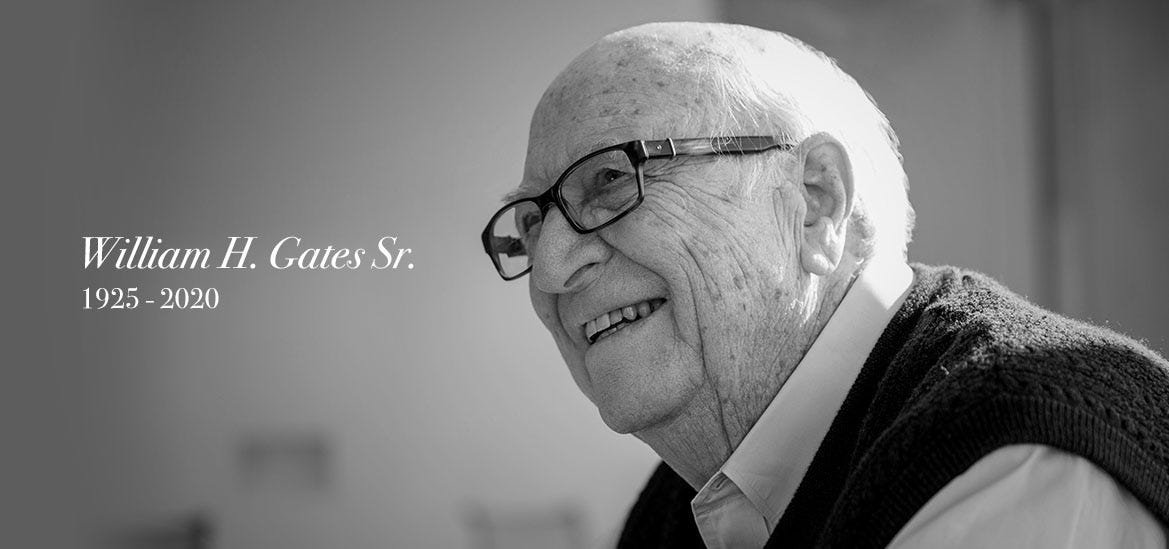 Role models play an important role, making enormous impact on the lives of young people, their choices, and futures.
Some see their parents as role models, while others follow the guidance and support of other role models.
Regardless who one's role model is, becoming a role model is one of the most impactful ways to help young people anywhere build a more promising future.
Stay tuned.
---
Connect with us to stay on top of what's coming.